Baking can be a temperamental affair. Its needs measurements and rules to produce delicious and melt-in-mouth goodies.
For years you might have been making cookies with your traditional family recipe, but did you know by following some simple tips you can make even better, mouthwatering cookies?
Ingredients At Room- Temperature
For better flavor, the ingredients need to be mixed properly, but this becomes difficult when you add eggs, milk, and butter straight from the fridge. Warmed ingredients are easy on your mixer and allow a smooth creaming process.
Cream It Nicely
The creaming process is when you add butter and sugar, and mix it together until its light and fluffy. This first and essential step, takes a total of 3-5 minutes. Before you add other ingredients make sure that the mixture is no longer grainy and free of air bubbles.
Flour It
Baking require precision to the mark, availability of measuring cups is essential for this step. People add flour without measurement and end up adding too much to the recipe, which gives a tough-hard-to-bite cookie batch.
For starters, stop dipping the measuring cup straight inside the flour; use a spoon to fill the cup till the opening. Then level it off with the help of a knife
Line It With A Paper
Parchment paper plays a key role throughout the process, in baking, timing and presentation. These sheets keep the cookies from deforming and prevent them from sinking into the tray. It also makes removal process easier, as you can just slide the cookies off the paper. It saves time by allowing you to prepare batches beforehand.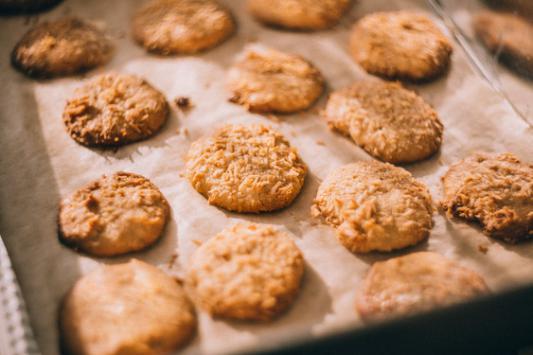 You can place the cookie dough balls on multiple lining and replace them once the sheet cools down. Lastly, clean-up is easy as all you need to do is dispose these papers and rinse the baking sheets.
Correct Timing
Ingredients should be added at the correct time and in correct measurement, or else the batter might become unstable and result in a hard batch. Similar is the case with eggs, you need add them one at a time to ensure proper blending and mixing.
Designate A Turn For Each Dry Ingredient
When you add flour all at once, this makes it hard for the mixer to blend the ingredients. In order to evenly spread the dry ingredients, add them in portions. The more nicely you mix all these ingredients, the more gluten will be created in your batter.
Fold It Gently
When dealing with cookies, it's essential that the add-ons like chocolate chips and marshmallows should be folded with hand to prevent over-mixing.
Distance Your Cookies
You need to lay the cookie dough ball in an orderly fashion. Make sure that you provide at least 2 inches of spreading-space between each cookie. If you have added additional butter then leave some extra margin, as butter acts as a spreading agent.
Cookie Size
Bring some synchronization in shape and size of your cookies and use an ice cream scoop to shape the cookie dough on your baking paper. You can also make use of an offset spatula to flatten the dough-balls to get circular shaped cookies.
Pan Rotation
Ovens have spots that heat up quickly, therefore its essential to rotate your baking sheet to distribute the heat evenly. A rotation is due when you have reached half of your total baking time. When dealing with two batches, make sure you also switch the sheets from top to bottom.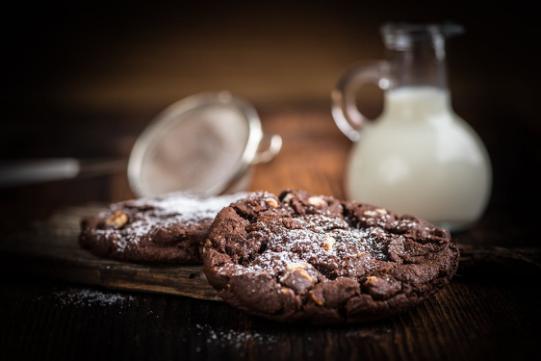 When you take the cookies out of the oven, let them sit for 2-3 minutes on the cooling rack. This prevents them from breaking or getting soggy.
Lastly, compliment your cookies with a nice glass of milk and make sure to share the sweet treats with others.
We have plenty of baking ingredients and toppings for you to make endless batches of prefect cookies. We – at Divine Specialties – offer a variety of quality product on our online baking store such as, branded Belgian chocolates, wholesale baking ingredient, decorations, chef tools, and etc. Also, don't forget to browse through our range of cookie mixes!