Welcome To Divine Specialties
Divine Specialties is a Family Owned Distributor and Importer of over 5,000 Specialty Products. With over 75 years of collective experience, Divine Specialties has cultivated relationships with Chocolate Companies Worldwide which allows us to offer the most unique Belgian Chocolate Brands. This make us one of the world's specialty importers and California's premiere distributor of imported and domestic sweet and savory food products and ingredients. Divine Specialties specializes in excellent customer service and prompt delivery to all over Southern California.
About Us
Having worked for some of the biggest names in the hotel and hospitality industry, our seasoned chefs bring their long-range experience to serve all your sweet and savory needs. Coupled with our partnership with the most exclusive chocolate brands in the world, we take pride in our reputation as California's leading wholesaler for all things sweet.
Catering to wedding vendors and hotels, food manufacturers and home chefs, our unique specialty food and beverage products are the first choice for a plethora of professional chefs in California. With brands like Gelita, Guittard, Callebaut and Cacao Barry being some of our pantry staples, we guarantee the highest standard of quality for all sweet and savory wholesale items.
From cakes and baking supplies to frozen foods and chocolate gifts, Divine Specialties is your ultimate online store and wholesale guide to specialty baking.
Our commitment to quality can be evidenced from 75 years of excellence in food service—and that is what makes the Divine Difference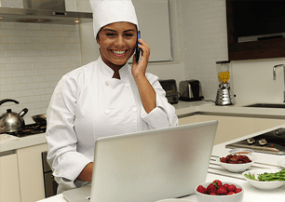 For more information about Wholesale Baking Supplies, Chocolate Companies, Pricing and Services contact us today.