Whether you are an amateur cook or a professional chef, every now and then, we all love to dabble with cooking and baking.
It is important to have the essential tools to make a delicious treat without putting in a lot of time and effort.
Let's take a look at some of the crucial cooking tools that are indispensable to a pastry chef:
Prepping
You need the following basic tools to mix and whip ingredients.
Spatulas and Bowl Scrapper
Basic silicone spatulas and bowl scrappers will change the way you bake and decorate. Say goodbye to waste as you scrap and clean the sides of the mixing bowl and use every drop of the mixture to bake.
Digital Scale
Baking requires consistency and exact measurements. You can't always rely on a pinch of salt and a dash of vanilla. Get a digital scale and measure out the ingredients to follow the recipe to the T.
Pastry Blender
When cooking pastries and pie crusts, you need to work with dry and wet ingredients and not turn them into a smooth paste.
Pastry cutters are needed to mash flour and butter mixtures into tiny chunks to make the perfect dough.
Cooking
To ensure a perfectly baked dish, use these kitchen aids.
Tabletop Mixer
You can make do with a hand mixer or a traditional whisk to combine all your wet and dry ingredients. But who wants to waste precious time when a tabletop mixer simplifies the cooking process.
Thermometer
It's important to cook chocolate and sugar in accurate temperatures to avoid burning the ingredients.
That's where a digital kitchen thermometer comes into play – temper chocolate and make candy syrup without the guesswork!
Decorating
Before presenting your final product, create beautiful designs using the following supplies.
Reusable Pastry Bags
These pastry bags are great investments especially if you are a frequent baker. Decorate your cakes, pies, and pastries by piping the cream frosting in reusable pastry bags and rinsing them under hot water to clean them.
Cake Decorating Tips
Use different nozzle tips to decorate the cake with colorful frosting. You need these nozzles to make intricate flowers and roses.
Leveler for Cakes
For those perfectly even cake layers, use a cake leveler to measure and simplify the creative process.
You could use a kitchen knife to separate the cake into 2 to 3 layers, but the incorrect level may lead to an unbalanced cake with a tilting edge.
Guitar Cutter
It is ideal for cutting confectionery, chocolate, jelly, and cakes into even strips, squares, and rectangles.
It comes with removable cutting frames that are perfect at cutting soft cakes into equal portions.
Fondant Cutters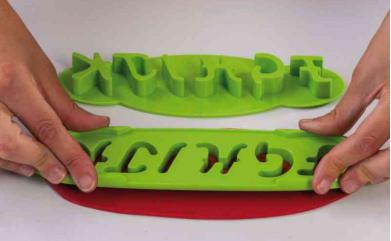 If you're playing with fondant, it is important to have the tools to cut the sugar mixture into fun designs and shapes.
Make abstract shapes and use alphabet and number cutters to decorate birthday and anniversary cakes.
Wondering where to buy basic chef tools at affordable rates? We have a stock of chef supplies and wholesale sweets and chocolates to help you with baking.
Contact our online baking and chocolate shop to get a variety of sweet and savory treats!